How To Make Homemade Noodle
Homemade noodles are much easier to make than you think. You don't even need a noodle machine (but we recommend you use one if you like). Here's your all-in-one guide for making the best homemade noodles. Let's check out our recipe now!!!!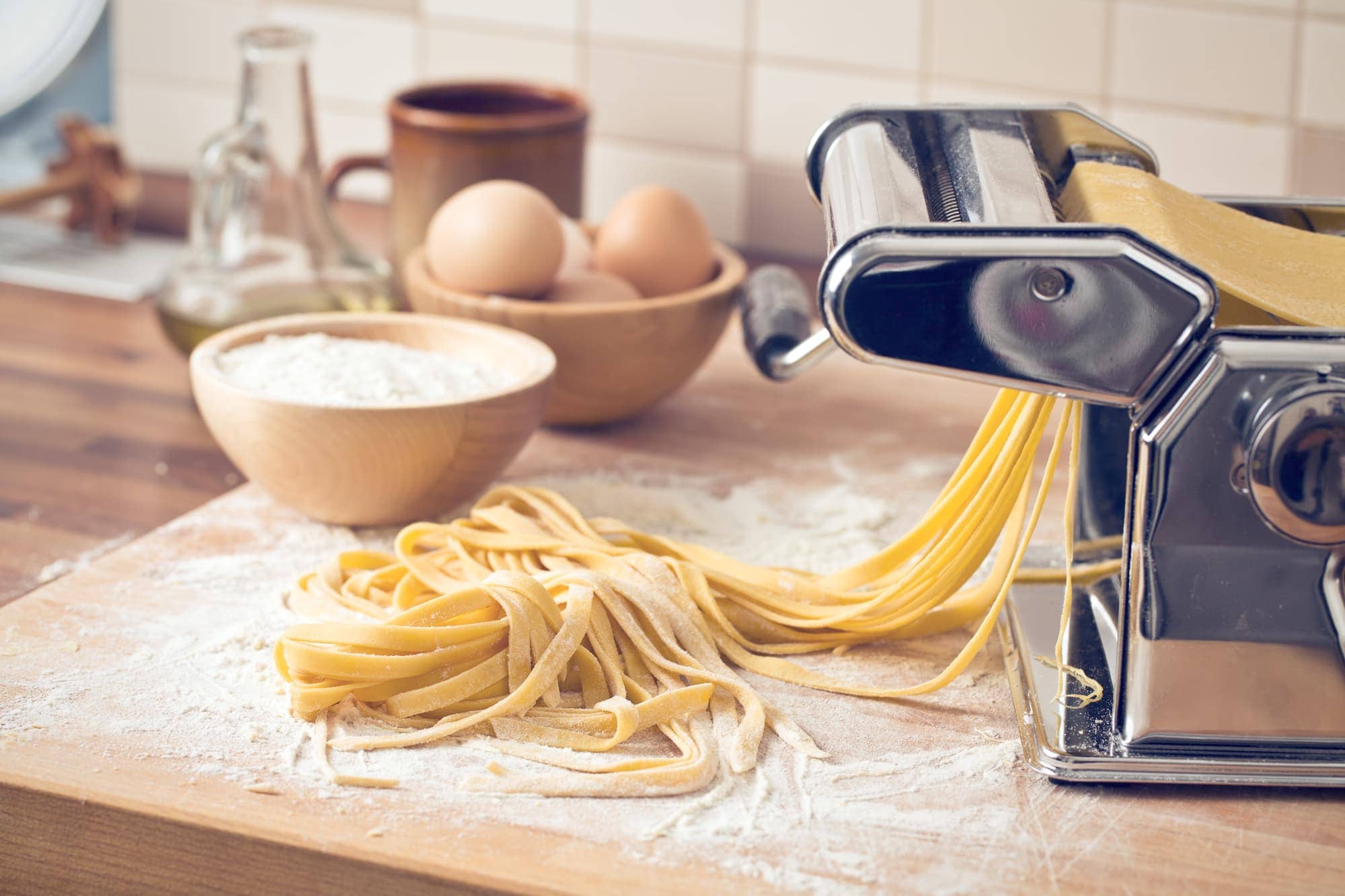 Ingredients:
All-purpose flour: 150g

Duck eggs: 2 eggs

Salt: 1 small pinch

Water: 20ml (can add a little turmeric powder to create a brighter yellow color)

Olive oil: 10ml
Tool:
Noodle tube/ Noodle machine: 1

Flour mixing bowl
Step 1: In a large bowl stir together 2 cups of the flour and salt. Make a well in center of flour mixture. In a small bowl, combine eggs, water, and oil. Add egg mixture all at once to flour mixture; stir to combine.
CREDIT: KRITSADA PANICHGUL
Step 2: Sprinkle a clean work surface with the remaining 1/3 cup flour. Turn dough out onto floured surface; knead until smooth and elastic (8 to 10 minutes). Cover and let rest 10 minutes. Divide dough into four portions.
CREDIT: KRITSADA PANICHGUL
Step 3: On a lightly floured surface, roll each portion into a 12-inch square. Lightly dust both sides of the dough square with additional flour. Let stand, uncovered, 20 minutes; cut as desired.
CREDIT: KRITSADA PANICHGUL
If using a noodles machine, pass each portion through the machine according to the manufacturer's directions until 1/16-inch-thick, dusting the dough with flour as needed. Let stand; cut as desired.
Step 4: To serve noodle immediately, cook in a large amount of boiling salted water until al dente, stirring occasionally; drain.
Tips to Storing Homemade Noodles
Before storing, you'll want to spread the noodles on a wire cooling rack to dry, then choose the following:
To store in the refrigerator: Let the noodles dry for 2 hours. Place in an airtight container and chill for up to 3 days.
To freeze: Dry the noodles for at least 1 hour; place them in a freezer bag or freezer container, and freeze for up to 8 months.